Services
Personalized services that ease your work
LEADING THE INDUSTRY WITH OUR 2-1-3 TOOL SERVICE PROMISE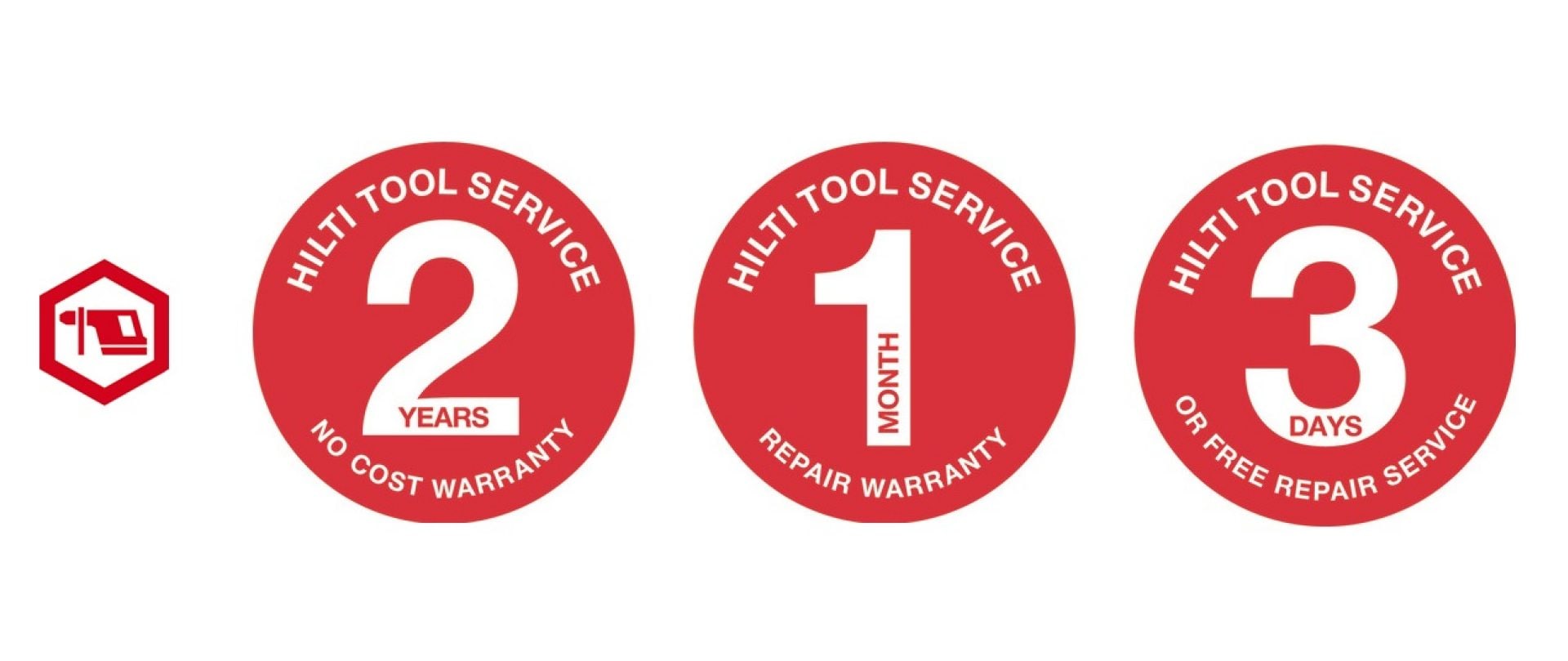 When you buy a Hilti tool, you get more than just a tool. You also get the super fast Hilti tool repair service. At Hilti we'll repair your Hilti tool within 3 days or repair it free of charge.
We'll even pick it up at your jobsite and return it to you onsite as well. Just contact us by phone or online and we'll do the rest. Every Hilti tool is registered, so there's no proof of purchase required.
Super fast. Pleasantly predictable. Incredibly simple.
HOW MUCH WILL MY TOOL REPAIR COST

Up to 2 years wear & tear coverage
We will repair your tool completely free of charge for up to 2 years from the date of purchase. This includes damage resulting from normal wear and tear. You won't pay for
parts,
labour
and even pick-up and delivery. 
After the wear & tear period, the cost of paid repairs are capped at our repair cost limit (RCL) for the remaining warranty period

Capacity guarantee
Battery will be replaced for free if the capacity is below working level within warranty to ensure your productivity
1 MONTH REPAIR QUALITY GUARANTEE
Our 1 month repair guarantee
If your tool breaks down within 1 month of a paid repair, we will repair it free of charge. This also covers 
wear and tear,
labour
and even free pick-up and delivery.
Full Functional Repair
Partial repair or replacement of parts will easily lead to reduction in tools' performance and lifetime and increase the repair frequency. We examine all the parts to restore tools' performance instead of partial repair.
REPAIR COST LIMIT (RCL)
No shocks when you receive your bill
Repair costs are capped after warranty
Repair costs will only be at RCL or lower
HILTI TOOL SERVICE - 3 DAYS OR FREE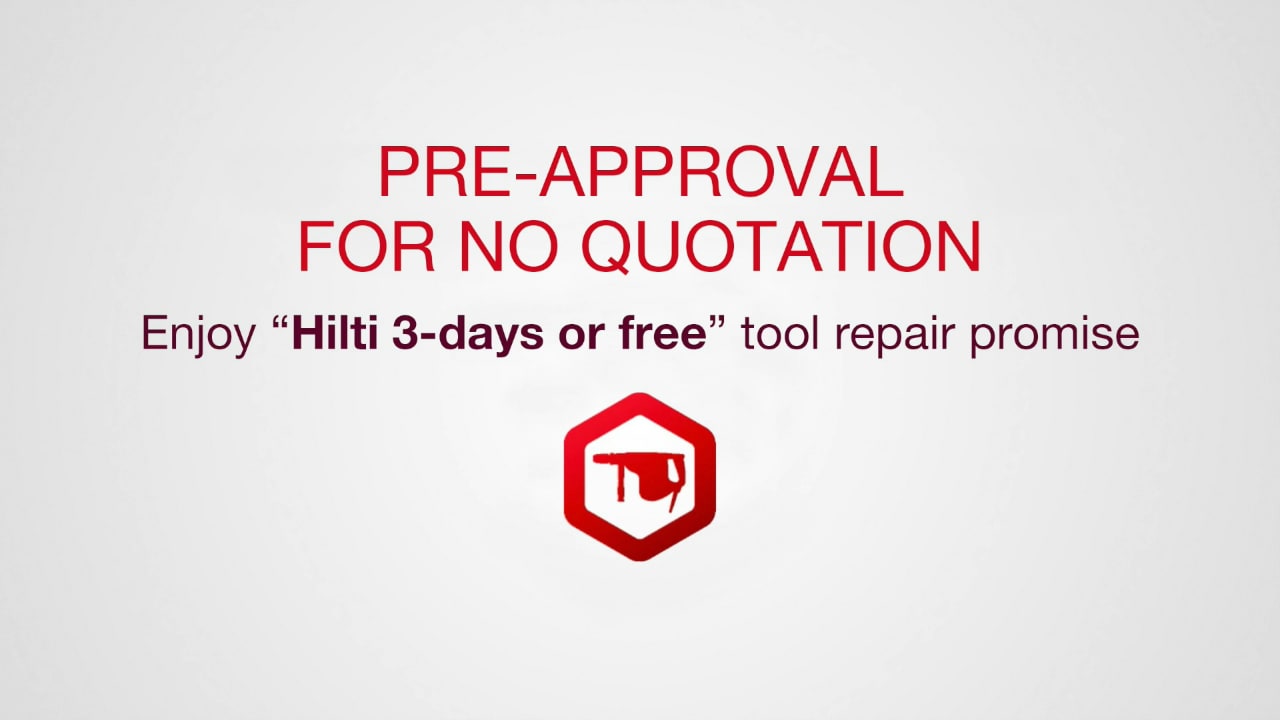 HOW LONG WILL MY TOOL REPAIR TAKE

Let's get started right away - repair cost pre-approvals
A repair quote can delay the entire repair process by 7 days.
With your consent, we'd like to start work on your tool right away. By pre-approving charged repair costs up to the repair cost limit, you eliminate the quotation process – meaning we won't delay repair work and less downtime for you.
Super fast and reliable

We'll collect, repair and return your tool to site, faster than any other tool repair service.
We even guarantee 3 working days turnaround time. If we fail, your repair is free!
*Conditions apply. Refer to T&Cs for details.
LAUNCH OF "REPAIR NO-APPROVAL VALUE" FROM 15 JUNE 2020
Reduce repair lead time by up to 7 days
To help you save precious time during which tool is unavailable, we are launching the new policy of "Repair No-approval Value."
What is changing?
With this new policy, Hilti will proceed with the repair without quotation approval, when the repair cost is less than or equal to 200 SGD (excluding GST). A quotation will be provided for approval if the repair cost is greater than 200 SGD (excluding GST).
What is not changing?
The Payment term and mode of payment will remain the same. You can keep the payment ready as per the existing terms.
Preapprovals

If you intend to change this Repair No-approval Value, you can provide a higher value in the form of preapprovals. 
WANT TO REQUEST A REPAIR?
Here are the three instructions to follow for an optimal handling of your tools:
Tools must be sent without their batteries, chargers or accessories
Vacuum cleaners must be sent bagged and without the chamber
Gas saws (DSH) must be sent without gasoline