Construction Total Stations
Find out how our total stations are designed to be intuitive to use for point-marking and construction layout, both outdoors or indoors, on floors, walls or ceilings
Find out how our total stations are designed to be intuitive to use for point-marking and construction layout, both outdoors or indoors, on floors, walls or ceilings
Back to products ()
Products ()
Faster construction layout
Digital solutions for simplified, more accurate layout
Frustrated by slow, traditional construction site layout? Tired of mistakes caused by poor-quality data? Want to go digital, but worried about the costs and technical complexity of robotic total stations? Hilti construction layout systems are user-friendly and designed with workers in mind. They combine intuitive software with rugged, tablet-controlled tools that close the gap between your design and field teams, making layout faster, more accurate and easier to document than ever.
Streamlined design
Bring digital performance to the office
Moving to digital layout can be daunting, but with Hilti's easy-to-learn PROFIS Layout Office design software, preparing BIM data for the field is easier than ever. Simplify design workflows, reduce the amount of point preparation required and have staff with no specialist engineering knowledge learn to import the latest architect or designer files from the BIM model, make changes if needed and then export the files to our PLC tablet.
POWERFUL ONSITE SOFTWARE
Enjoy intuitive tablet-guided layout in the field
Out in the field, crew members can simply upload the relevant files from the BIM model directly onto the rugged PLC tablet and begin guided layout with the PLT 300 total station. Our advanced layout tool is powered by our intuitive Hilti Construction Layout software which helps make a huge range of layout tasks – from formwork, anchor points, slopes, interior wall partitions and many more – faster and more accurate than ever before.
LASER-FAST LAYOUT
Make quicker, more precise layout a one-person job
Using traditional methods, two experienced workers can layout up to 150 points per day. With the PLT 300 this jumps to 500 points with just one worker. With self-levelling and auto stationing features, even inexperienced workers can lay out 2D and 3D positions quickly, sending highly accurate data to the tablet and helping you prevent costly mistakes. With both mid-range and long-range solutions available, Hilti total stations enable fast and accurate layout whatever your site condition. 
Take control of your inventory
What equipment do you have? Who's using it and where? Do your tools need maintenance or calibration? Is it to time to renew training or certification? Get all this critical information and more in close to real time with ON!Track, Hilti's equipment management software for the construction industry.
Find out more
Training designed with you in mind
Whether you are looking for an online session on how to operate a specific tool, an accredited live webinar on a key construction topic or a tailored health and safety courses that meets the specific needs of your jobsite, Hilti offers a wide range of learning options — all delivered by experts.
Find out more
How Hilti engineers can help
Partner with Hilti to benefit from expert support through all stages of the project lifecycle from design to installation to building management. We offer everything from specialist advice and accredited training to on-site testing and engineering judgements to help ensure you find the approved solutions you need. 
Contact us
Robotic total stations such as the PLT 300 layout tool have turned the slow and error-prone two-person task of laying out formwork, anchor points, slopes or interior partitions into a routine job for a single worker. Until now, the main drawback of these tools has been their complexity and lack of connectivity. They require some training and experience to operate and depend on input which often has to be simplified and adapted.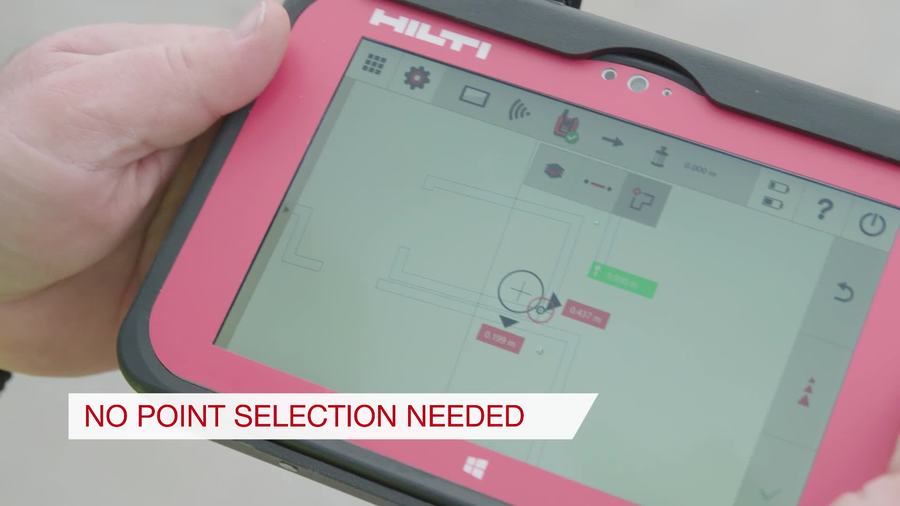 Technology designed for everyone in construction
Advanced layout tools extend the speed and accuracy of digitized construction to the jobsite professionals responsible for making those CAD/BIM files a reality.  Hilti has designed the latest layout tools for everyone in construction – the PLT 300 total station offer a quick-to-learn alternative to the slow and error-prone combination of chalk line and measuring tape. When used with a PLC 400 tablet, productivity and accuracy benefit from a seamless digital data transfer from the design team to the jobsite team.  Watch the video below to see how user-friendly technology is changing onsite layout work for the better.