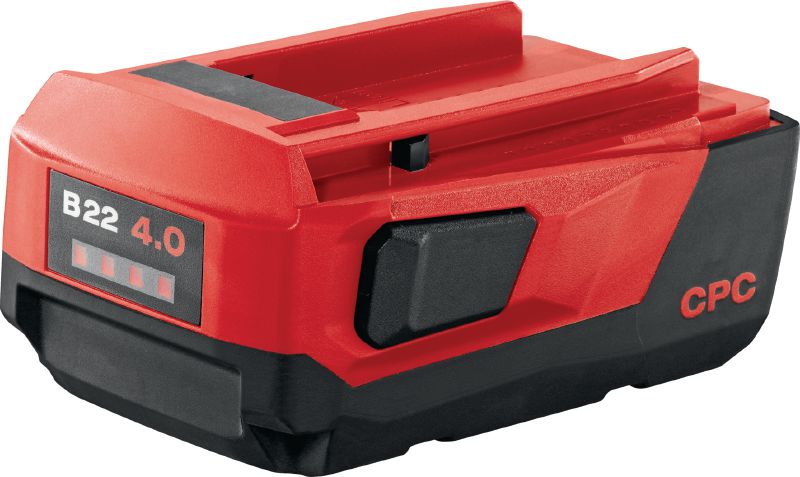 Move cursor over image to zoom.
Click on image to zoom.
B22 4.0 22V Battery
New product
Item #r8449394
High-power, compact 22V 4.0 Ah Li-ion battery
Charging time with C4/36-350 battery charger: 41 min
Weight: 0.69 kg
Dimensions (LxWxH): 136 x 97 x 60 mm
More technical data
Features & Applications
Features
High-performance compact battery for all Hilti 22V tools providing the optimal balance between run time and ergonomics
Includes Hilti Cordless Power Care (CPC) technology – on-board processors monitor each battery cell to deliver more reliable, consistent and longer-lasting power on your jobsites
Fully sealed electronics for increased protection against dust, humidity and water
Rubberised, glass-fibre reinforced casing – up to four times more resistant to damage from dropping and twice as resistant to extreme temperatures than standard ABS plastic
Casing designed to cool the battery to the ideal temperature for faster charging and reduce the risk of overload during use
Applications
Working in tight spaces where high performance in compact dimensions is a priority
Compatible with all Hilti 18V and 22V cordless tools
Compatible with all Hilti C4/36 Li-Ion chargers
Applications in extreme temperature conditions – from 60° C (140° F) down to -17° C (1.4° F)
Power your cordless performance
Hilti B22 4.0 and B22 8.0 batteries are developed to give you Power. Always. Everywhere
When you need the power to perform in every application, the latest lithium-ion battery technology from Hilti is the ideal match for your 22-volt cordless power tools.
Developed to meet the demands of the jobsite
New cell technology
Robust casing
Increased runtime
Higher performance
Next generation technology
We work to improve the performance of our batteries, and both the B22 4.0 and B22 8.0 batteries use larger and more efficient Li-ion 21700 cells to give you longer runtime, and improve the performance of your tools.
Platform compatibility
The new B22 4.0 and B22 8.0 batteries are fully compatible with the entire range of Hilti 22 volt tools, which means that you can be safe in the knowledge they'll fit your cordless tool kit.
Power that's easy to handle
The new cell technology increases the amount of energy stored while running cooler, thus reducing the amount of power lost. This means your power tools will run for a longer time in even the most demanding jobs.
Introducing the new B22 4.0 and B22 8.0 batteries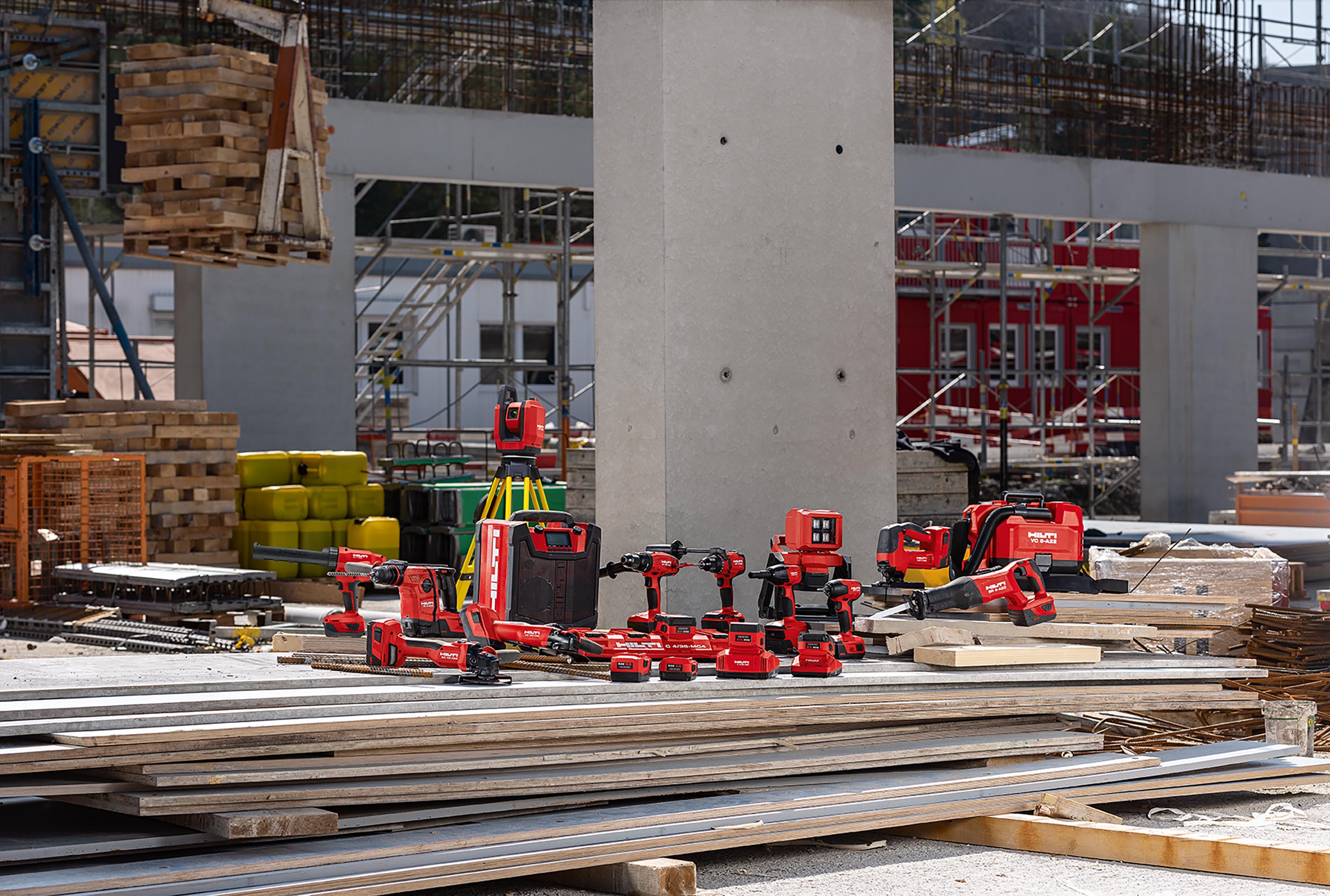 Extensive range of chargers and accessories to keep you powered up
HELPING YOU WITH YOUR DAILY BUSINESS
Services to keep you performing
You can't predict damage to your batteries, but when it happens you'll be left powerless.

To help you avoid productivity issues on the jobsite our range of services help you avoid these additional costs and keep you working.
YOUR 24/7 PARTNER
Whatever the job, wherever you are, our teams are always available to help you get the job done
We have dedicated account managers and technical consultants who will meet you directly at the jobsite and offer solutions instantly.
Our customer service agents can provide information, take orders, arrange deliveries and repairs all in just one phone call. And, you have instant access to our products at our many Hilti Stores, where you can try out our tools and inserts and get further advice.